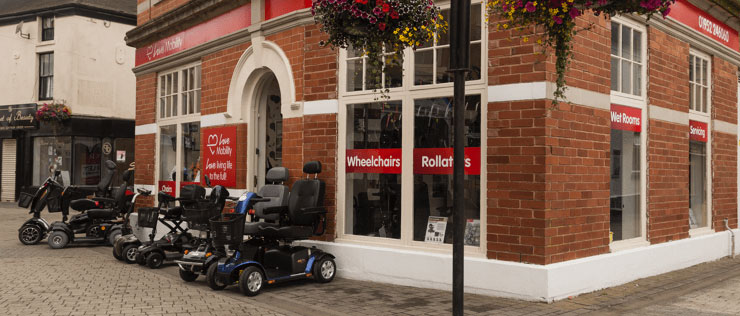 A WIDE RANGE OF POWERCHAIRS FOR ALL NEEDS
Powerchairs (Electric Wheelchairs) are personal vehicles designed for both indoor and outdoor use. They are ideal if you cannot stand or walk, or if you spend a great deal of time in your chair. Our clinical expertise ensures that we equip you with the ideal seating specification, as this is critical to your comfort and well-being. Bespoke or prescription powerchairs are adapted to your needs e.g. special seating, cushions, head supports, footplates, leg extensions and so on. We don't recommend buying a powerchair without a personal consultation, and our FREE Home Assessments ensure that you get the right chair for your needs.
The powerchairs in our range have been selected with quality, weight, comfort, style and value for money in mind. These include:
'The Jazzy Power Chair' range offers a wide selection of mobility solutions that are built for the real world. From easily portable power wheelchairs, to robust models for enhanced performance over varied terrain.
'Quantum Rehab' power base range consist of a wide array of models, each incorporating various components in order to accommodate the comprehensive needs of individuals requiring a complex rehab product.
Find Our Showroom
Contact Us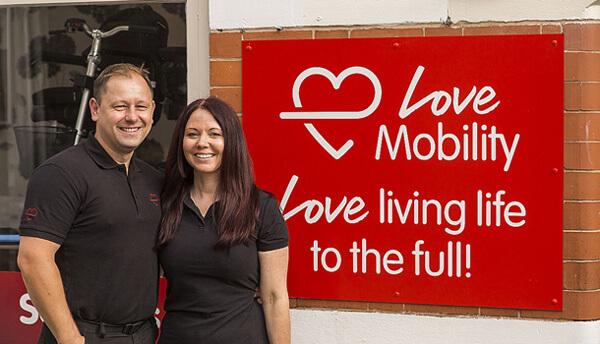 NEED SOME HELP? CALL US!
We are a family run business, having worked in the mobility industry for over 20 years at both retailer and manufacturer level. We care about the people we work with, and our philosophy is to ensure we provide a friendly and personal service for everyone. So whether you visit our store in Wellington, or allow us to come and assess your requirements at home, we will ensure that we give you honest, independent advice on whatever your mobility needs are.
We look forward to seeing you either in store or at home!
Rob & Jan
Book Your Free Home Assessment
SELECTION OF OUR BESTSELLERS
For full range of our products please visit our showroom in Telford, Shropshire
Powered wheelchairs are divided into a number of categories.
Some are designed for use indoors only and are portable enough to fit in the boot of a car. Others are for outdoor use only – these are generally larger and heavier. Some are designed for both indoor and outdoor use.
All powered wheelchairs and scooters are classified as 'invalid carriages' by the Department for Transport and are categorised as either:
Class 2 products

which can only be used on the pavement (except where these is no pavement) and have a maximum speed of 4mph. Service users aged under 14 are restricted to Class 2 products only.
Class 3 products

which must be registered with the

Driver Vehicle Licensing Authority (DVLA)

(more advice is available from your local Motability dealer). These chairs can travel up to 8mph on the road, although must only be driven at 4mph on pavements. When driven on the road, they must obey all requirements and regulations as other road users.
The differences in weight and power (and thereby speed) of the two enable them to access different environments, but also have different legal requirements for the driver.
Class 2 products: are generally smaller, lighter and less powerful can be designed for indoor and/or outdoor use. If for indoor use, they will have limited outdoor use and less distance range some can be dismantled or folded for transporting cannot be used on the road (except where there is no pavement or to cross the road) outdoor models have the ability to climb kerbs have a top speed of 4mph (6.44 km/hour) do not need to be registered with the DVLA.
Class 3 products: are generally bigger, heavier and more powerful are not for indoor use can be used on the road have a longer distance range cannot be dismantled have a number of additional safety requirements to allow road use have a top speed of 4mph (6.44 km/hour) off the road and 8mph (12.9 km/hour) on the road must be registered with the DVLA the user must be aged at least 14 years.
Class 3 vehicles are not allowed on motorways, bicycle tracks or bus/cycle lanes, but are legally allowed on dual carriageways.