Karma Dove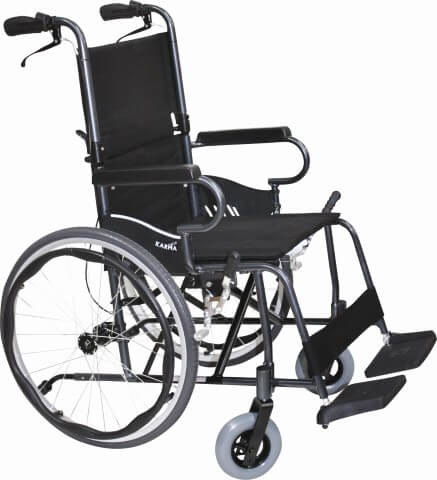 Karma Dove
More Information:
A compact lightweight wheelchair with patented swing away footplates.
The Dove transit wheelchair is unique due to Karma's use of specialist materials, leaving you with a strong and rigid frame that is light in weight. This "classic" chair comes equipped with fixed armrests footrests.
The lightweight qualities of this wheelchair will ensure you find it easy to use with transport, or when storing away. The transit model weighs 10.5 kg when fully assembled but can be lowered to 9 kg when parts are detached.
The self-propel version weighs just 12.3 kg when fully assembled. On this version, the ergonomic handrim makes the wheel easy to grip and control. The wheels are strengthened with 14" puncture proof tyres to ensure your days out go without a bang!
The back of the fame folds easily making the Dove compact and easy to transport in seconds. Also, the upholstery is manufactured to be fire retardant and to help reduce sliding.
There are also optional extras including anti-tip wheels, attendant brakes, lap tray, travel bag, and cup holder. This wheelchair offers excellent comfort, practicality, and comfort for a very reasonable price.
Options & Accessories include:
Anti-tip wheels
Attendant brakes
Seat belt
Harness
Foldable headrest
Lap tray
Travel bag
Backrest bag
Net bag
Cane holder
I.V. Pole holder
Cup holder